A typical Bathroom Resurfacing Project.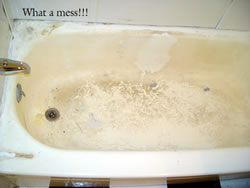 Firstly, we will go over the existing bath and remove old grout, silicon and anything else that maybe lurking about! We then go through an initial surface clean to entirely remove any minerals and soap deposits with a sharp blade.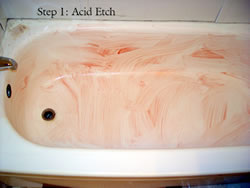 Once that is complete, we move onto stage 2 which involves acid etching on porcelain surfaces and an acid clean on fibreglass or acrylic baths. This ensures the cleanliness of the surface from any additional stubborn spots or even rust deposits. Once this is completed, the surface of the bath will be 'tacky' so that the next stage being the primer and top coat will attached perfectly to the new surface.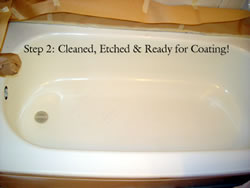 Time for the Primer and Top Coat! Now that the item is 'ready to go' we would now mask off and/or cover anything that is not being resurfaced. This includes tiles and floors. We then spray only quality epoxy primers that have an adhesive promoter to the surface, of which there will be two coats.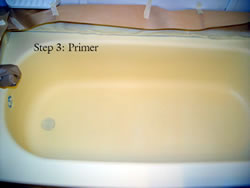 The final step is to cover the surface with the Chemical Coating. This process replicates the look and feel of the original porcelain bath.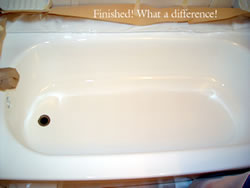 We always repair any flaws in the surface, such as chips or knicks.